So we aren't really having real summer weather, so its the perfect time to catch up with some craft projects.
Tomorrow there will be lots of skirt and bag sewing going on at the café as well as some knitting. As usual there will be fabulous cake on offer too, open from 12.30-3.30 hope to see you there.
On the knitting front I have just finished knitting this very cute Pop baby cardi from the current Knit Now magazine, it is designed by the very talented Rachel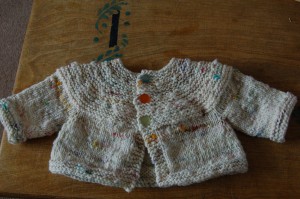 [/caption]
It's knitted with some handspun with some vintage buttons, I just need to find a baby recipient for it now.